Dette er et tidligere arrangement
Konferanse | 13.06.2023 – 15.06.2023
Conference on Sustainability in Hydropower 2023
Ecological mitigation, best practises and governance
Sted:
NTNU, Trondheim (Norway)s lokaler på Gløshaugen
Tid:
Fra 13. til 15. juni 2023
Pris:
For digital online participation – 950 NOK (Early bird before 25th of April) 1600 NOK(25 April – 28th of May)
Arrangør:
Konferansen er et samarbeid mellom FME HydroCen (NTNU), NTNU Vannkraft og Havs och Vattenmyndigheten (HaV - Sverige), sammen med Miljødirektoratet.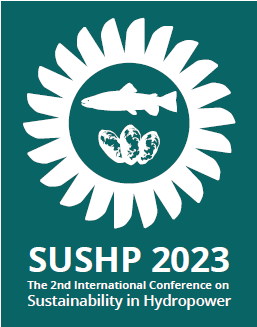 For updated program and registration for physical particpation go to
SUSHP 2023 - NTNU.
For questions; sushpconf@videre.ntnu.no
Online registration for the Sus HP Conference 2023
Please register at the bottom of this page if you like to attend online the 2nd International Conference on Sustainability in Hydropower. There will be live streaming of all plenary (13 and 15th of June) and parallel session (14th of June). You will receive the links in due time for the sessions start, after the invoice from the Norwegian Environment Agency have been paid.
Late online registration
For late online registration to the conference, please register here:
2023 Registration - Personal details (eventsair.com)
All online participants will
get access to the livestreaming during the conference
get possibility to address (written) questions and comments to the speakers and poster
receive the electronic version of the conference proceedings with published abstracts
Registration for physical attendance (in Trondheim)
Please register here: Registration - SUSHP 2023 - NTNU
Registration for online apperance is closed. For questions; sushpconf@videre.ntnu.no